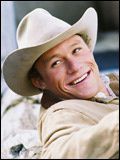 Dans le New York Times, le criticque Stephen Holden a écrit:"Both Mr. Ledger and Mr. Gyllenhaal make this anguished love story physically palpable. Mr. Ledger magically and mysteriously disappears beneath the skin of his lean, sinewy character. It is a screen performance, as good as the best of Marlon Brando and Sean Penn."
Dans le magazine Rolling Stone, Peter Travers a écrit:"Ledger's magnificent performance is an acting miracle. He seems to tear it from his insides. Ledger doesn't just know how Ennis moves, speaks and listens; he knows how he breathes. To see him inhale the scent of a shirt hanging in Jack's closet is to take measure of the pain of love lost."
Extraits d'interview de l'acteur :
- Vanity Fair (Aout 2000) : "I only do this because I'm having fun. The day I stop having fun, I'll just walk away. I wasn't going to have fun doing a teen movie again.... I don't want to do this for the rest of my life....I don't want to spend the rest of my youth doing this in this industry. There's so much I want to discover."
- "Access Hollywood" (1996) :"It's a little uncomfortable doing love scenes in armor, but, you know, when the heat's on, the heat's on."
- National Post, Mai 2001 : (au sujet des paparazzis) "Most of the time you don't even know they're there. Now, that's the scary thing. It's really strange and invading, but I'm still working it all out. I try to not let it bother me. I really try and find the humour in all of it. And if I want to swim naked in my pool, I'm still going to do it. I certainly don't want to feel that I have to change everything in my life that I do to cater to them. I just won't let it happen."
- Reel.com, Mai 2001 : "I don't have a technique. I've never been a believer in having one set technique on how to act. There are no rules and there is no rulebook. At the end of the day, it all comes down to my instincts. That's the one thing that guides me through every decision professionally. Socially, also. That's my technique. Yeah, you read through the script 100 times. I guess I have little characteristics about myself. Sometimes, most often than not, once we start shooting I won't look at the script at all until we finished shooting. It's kind of like it's been imprinted in my head during rehearsals. You just let it go."
- EW.com, Mai 2001 : "I'm the worst auditioner, really, really bad. I mean, you're being judged and I'm just so aware of it that it consumes me. I can't relax, I'm tied in knots, so the voice is very taut and tense. You're so aware that you're acting 'cause you're sitting across from this lady with a piece of paper who's going, ''I'm. Going. To. Shoot. You. If. You. Don't. Blah, blah, blah,'' in this emotionless voice. It's foul. I hate it."
- NW Magazine, Mars 2000 : People just love to bash LA. People say it's so pretentious, so arrogant, so this and that. But it's truly a wonderful place. You don't have to go to the places where that stuff goes on. You don't have to go to Beverly Hills, you don't have to go to the parties. You can live up in the Lower Canyon and live such a perfectly healthy, beautiful, fun life with all your friends. You can drive two hours one way and be at the Joshua Tree desert, two hours one way you're skiing at Big Bear. Sure, it can get full-on and that's why it's good to get out. But it's too easy just to say, "Nup, I hate it. I'm not living there anymore.
- Cosmopolitan, Juin 1998 : (au sujet de son enfanceelevé par sa mere et ses sœurs) I learned respect for women, and patience. You grow up with all those women around you...you learn to wait your turn.
- à propos de son personnage "Ennis" dans Brokeback Mountain (2005), il a dit :"The challenge was to capture the stillness of him. I have kind of semi-frantic, nervous energy. Harnassing that was something I thought I'd have to work out. Shooting in the wilderness, the stillness became like this innate quality."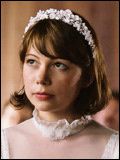 - à propos de Michelle Williams : "She's my soul mate and we couldn't love each other any more than we do already. We're like two peas in a pod."
- au sujet de sa fille : "Matilda is adorable, and beautifully observant and wise. Michelle an I love her so much. Becoming a father exceeds all my expectations. It's the most remarkable experience I've ever had - it's marvelous."
My life right now is, I wouldn't say reduced to food, but my duties in life are that I wake up, cook breakfast, clean the dishes, prepare lunch, clean those dishes, go to the market, get fresh produce, cook dinner, clean those dishes and then sleep if I can. And I love it. I actually adore it.
I'm not good at future planning. I don't plan at all. I don't know what I'm doing tomorrow. I don't have a day planner and I don't have a diary. I completely live in the now, not in the past, not in the future.